Let's design your preferred SUB or SUF. No standard SUB will satisfy your needs anyway! Out of 5.000 different parts it should be possible to assemble a CerCell design specifically for you.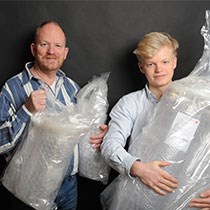 CellVessel is a unique SUB platform able to satisfy the 0,5 to 30 litre Vessel Volume range. Fit's any existing Process-Control-System with agitation via Head-Plate-Drive or Magnetic-Bottom-Drive.
World first tough SUF up to 30 litre for microbial fermentation replacing old fashion glass/steel STR. Compatible with all Process-Control-System, classical sensors and super simple to install.